Studio 2
Kapi Art Space - Oil and Acrylic Painting
Kapi Art Space is a gallery and teaching studio in Kalorama encouraging supportive and inclusive arts-based activities and events. It's focus is building resilience, capacity and wellbeing in individuals community through education, connection and creativity.
The Kapi Art Space Studio is a collective space used for teaching and creating. Each artist uses different techniques and mediums to produce original works and prints. The space encourages using creativity to help with our mental health and well being.
Parking Instructions: Ample parking on streets and at the lookout.
Melways reference: 52 J9
1282 Mount Dandenong Tourist Rd, Kalorama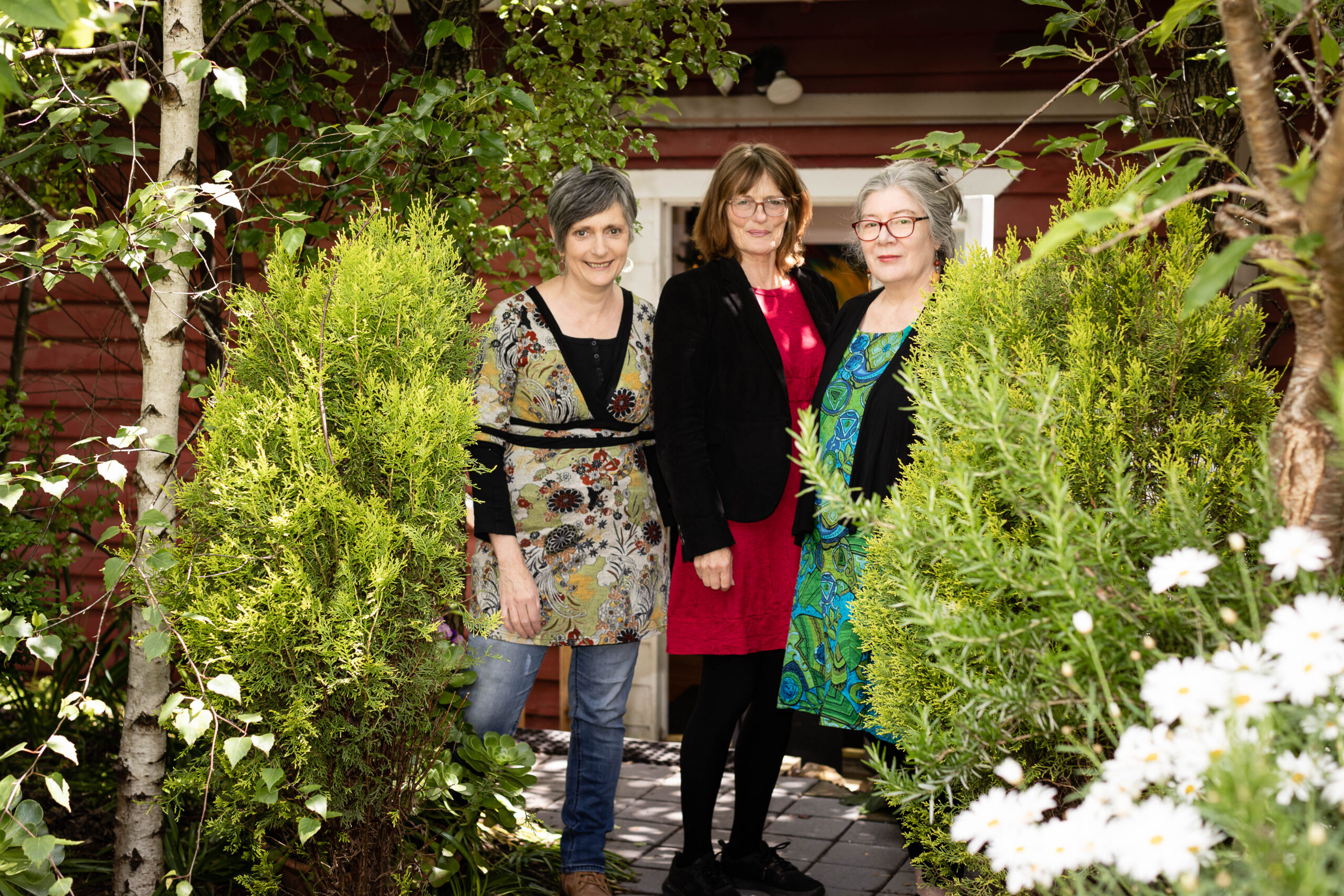 Heather Bradbury
Photo Realistic Artist & Teacher

Heather is passionate about helping people find their creative voice.
She owns the Kapi Art Space Studio where she teaches painting and other creative courses both in her studio and online! Her career began when she became a finalist in the Tasmanian Glover Prize in 2013 & in the Fleurieu Art Prize in Adelaide. Her photo realistic art is her visual journal. "I love to paint water and reflections, nature is the source of my joy, a subject that always brings me alive."
Having grown up in rural Victoria and then lived in Tasmania for almost 20 years, nature and community has been a big part of her world. When she burnt out many years ago, She needed something to help her find comfort and direction. She fell in love with painting nature in a photorealistic way, and now continues to produce her own paintings and also help others discover their creative dreams.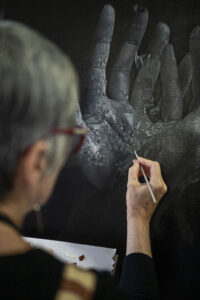 Karen Bowen
Oil Painting
Art for the joy of colour!
Karen Bowen is a Dandenong Ranges artist coming to a formal art practice following a teaching and management career. Using mostly oil on canvas, Karen paints familiar objects and landscapes in her compositions using intense, bright colours and bold lines to create works that celebrate the joy colour brings to her and the viewer.
Karen spent 3 years working under Melbourne artist, Nell Frysteen who shared a love of colour with her and started her on a journey towards colour mastery.  Influenced by Matisse, the Fauves and Expressionists, Karen's contemporary, domestic scale paintings and cards and prints have found buyers through social media outlets and at Kapi Art Space, Kalorama.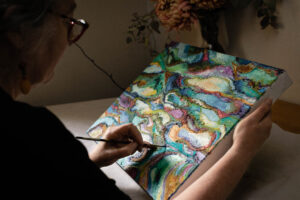 Jill Brailsford
Paintings & Glass 
I have worked all my life as an artist. Starting out in children's book illustration and moving on to painting stained glass church windows, painting large works in oil and building a business selling cards and prints, using my illustrations. I like to try new things. I have many different styles of artwork, which echo all the different types of images I am influenced by, usually ones with beautiful colours. My current obsession – Swap cards of the 1960's and 70's.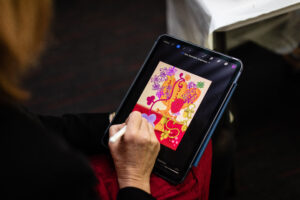 Andy Machray
Painting & Drawing
Having only started painting with colour two years ago after taking up classes at Kapi Art Space Andy has devleoped a very detailed style of painting beautiful still life images that make your head turn! Often seen painting live at Kapi Art Space, he has been drawing intricate works with pencil for many years and has a passion to help others discover how amazing drawing and painting is.