Studio 10
Leaf Studios - Multidisciplinary
A collective of 6 women, of diverse backgrounds and experiences, we naturally display a variety of mediums and styles- current main focus' being ceramics, painting, creation of magical tools, textiles, jewellery, illustration, leather work and design. Our art is a way we tell stories and we freely share our approaches and the techniques of our practises
Our 'shared' studio consists of varied spaces- an open studio workshop in our 'gallery room', individual studio spaces and a private studio. Artworks in various stages of progression can be found at different times, along with tools and materials ready and waiting for continued creating. Going behind the scenes, meeting the makers and witnessing how we do what we do..
Parking Instructions: street parking and parking lot at the round about (corner of Monbulk and Sherbrooke roads)
Melways reference: 75 J3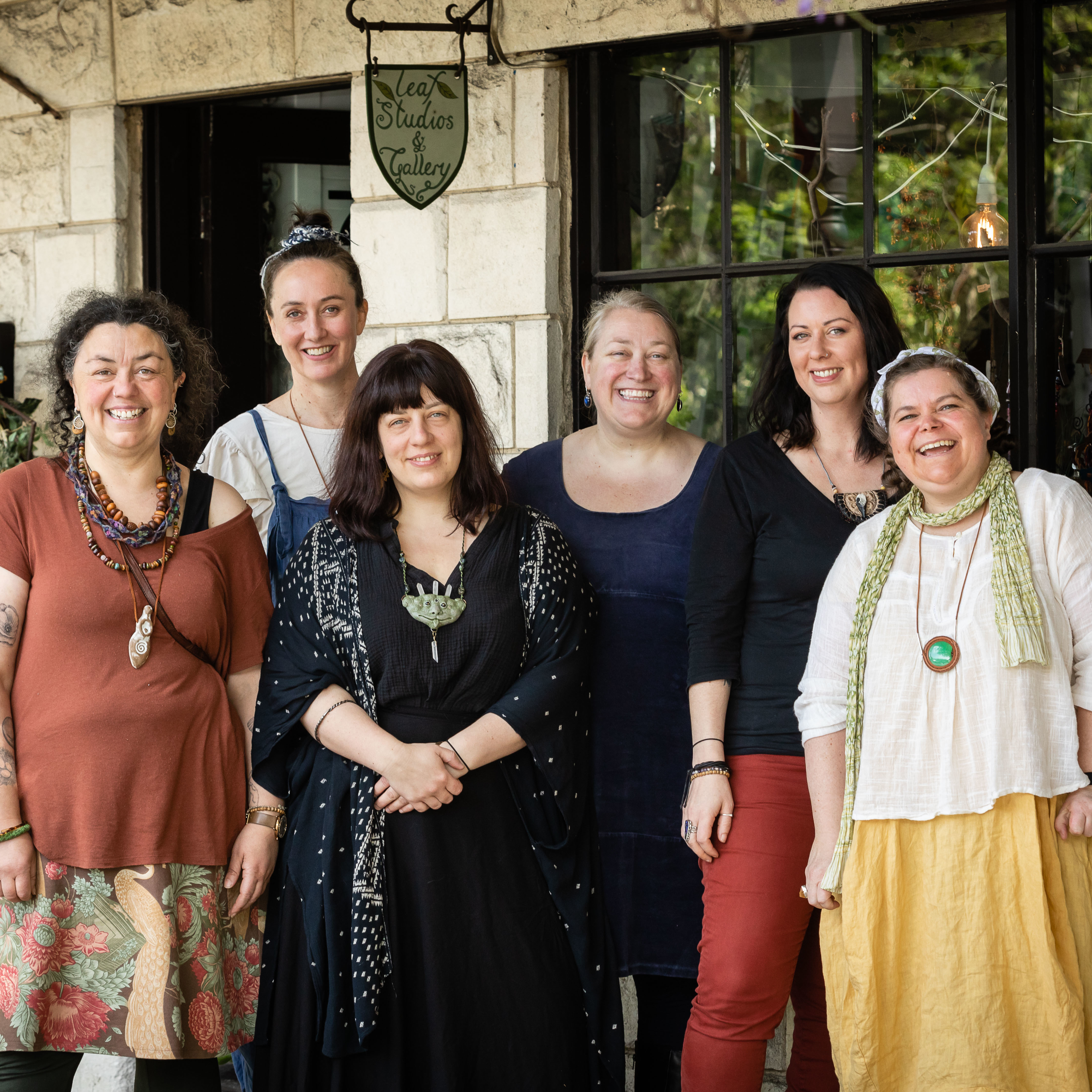 Amy Laker Bruni
Inspired by our natural Wild environment, and an adventurous life, Lillebeart mimics, recreates, encapsulates, and re-imagines leafy botanica into jewellery, wearable art pieces and practical everyday ceramic homewares, artist's and altar tools.
Amy loves to get her hands dirty, predominantly working in clay, using her linoprinting techniques in both mediums, and dabbles in resin, printing on textiles and leaf cutting. Scandi and mythological themes will inspire work at various time of the year too.
Aware of how humans are impacting the living world, we often need little reminders to re-solidify the connection to the universe and Mother Nature many of us feel. By wearing these treasures or using them in the more mundane tasks of a busy life, the soul is soothed and passion reignited to explore the world around us.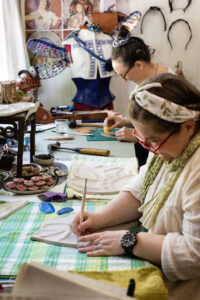 Bree Thomas
Bree Thomas has lived in the Dandenong Ranges as long as she can remember- having grown up here, it is where she draws her inspiration and makes art. Her works are produced with a variety of mediums including one or any- ink, pastel, pencil, paper, textiles and fibre. Bree's main inspiration is the natural world. She has a particular interest in the critters found around her, a special love for the little things that others may not see- the insects; the beautiful minutiae.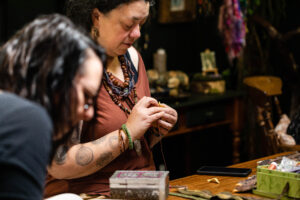 Nadia Turner
Melbourne artist and illustrator, Nadia Turner works in several mediums, including acrylic on wood and canvas, ink and watercolour, paper and textile collage. Her influences stream from many areas, from the art of the surrealists, especially that of Remedios Varo and Leonora Carrington, the Pre-Raphaelites, traditional folk art, various children's books and of course, ancient myth, symbolism and legends.
"I am fascinated by other worlds and other cultures. In my work I am trying to capture a moment in a characters life and evoke a sense of otherworldliness. Just like when you look at an old photograph, I want you to wonder….. who are these creatures?……what worlds do they live in?…and what are their dreams?"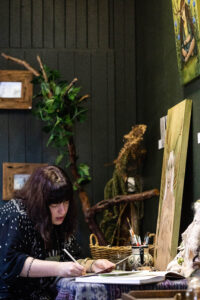 Rebecca Barkley
Fantasy artist and creator of oddities, Rebecca is inspired by all things mythical and magickal, both whimsical and unsettling..
From pretty faeries and adorable dragons to sinister sirens and decaying specimens her work explores both light and darkness.
Rebecca offers a range of colourful artworks & prints, hand crafted magickal tools, potions, jewellery and curiosities.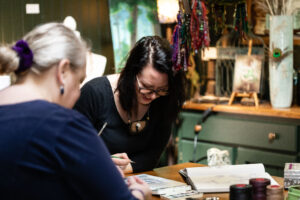 Tamsin Crocker
Sacred Ceremonial Tools and Objects, beautifully handcrafted in leather and stone.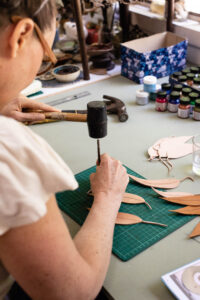 Fiona Reid
Fiona is our resident Oracle, which is an ancient term for Psychic, Medium, Seer, Healer, etc.
She believes she has a role to play in reconnecting us with Nature, and more precisely – our own wild spirits.
Fiona offers Oracle Card Readings, which can be especially helpful if you have reached a cross-roads and don't know what next step to take in relation to career, relationships, life-purpose, etc.
Fiona also offers Sacred Ray Healing Sessions and sells magical talismans and tools in our shop.